2018 summary
is online: Nimble Advertizer, SLDP updates, Playback authorization framework, mobile products improvements, new articles and more.
Get ready for Flash farewell
in 2020 and further decline of RTMP. We've created SLDP as an alternative for low latency live streaming.
Read this article
to learn more about steps to transition from RTMP to SLDP.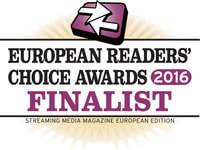 Nimble Streamer
Light-weight fast freeware media server
Click on use cases above to learn more and then try Nimble Streamer in action:
view HTTP streaming demos.
Search our website and blog for specific information:

This website or its third-party tools use cookies, which are necessary to its functioning and required to achieve the purposes illustrated in the Privacy Policy. If you want to know more or withdraw your consent to all or some of the cookies, please refer to the Privacy Policy.
By closing this banner, scrolling this page, clicking a link or continuing to browse otherwise, you agree to the use of cookies.